Identify potential improvements & recognize your strengths and top competencies with customized surveys
Customize your survey questions and find out exactly what your customers want.
In last week's blog post, we explained to you how you can create customer surveys quickly and easily with ProvenExpert. We focused more on obtaining recommendations and reviews and less on the customer survey itself. With the question catalog, you have a strong tool at your fingertips that can do even more when you adapt it to your individual survey needs - for example to identify your best competencies or your customers' satisfaction in specific areas.
Here, I will show you how you can easily adjust the question catalog to your needs so that you can fully utilise the potential of customized customer surveys. Additionally, some basic terms are explained to help you create your customer survey.
Customised surveys for detailed customer feedback
To create a new survey, click at the top right edge of your profile on Surveys.
1. Set down the goal, topic, and title of your survey
Next, think about your Survey goal. What do you want to find out? If you can answer this question immediately, there's nothing stopping you from creating your customer survey. If not, you'll have to consider your goal again. If it's not clear to you what you want to find out, then it won't be clear to your customers either. Without a definite goal, your survey will be imprecise.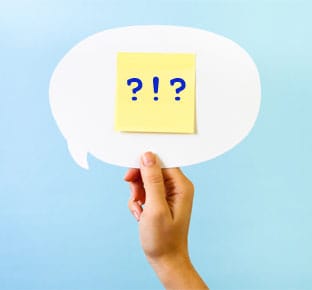 Once you've established a goal for your survey, you now need to create a topic for this. This sounds more difficult and more complicated than it actually is. The goal is what YOU want to do with the survey (what you want to know), the topic however is what the CUSTOMER should be considering in your survey. This often means survey goal = topic. If you want to find out how satisfied your customers are with your consultancy service for natural stone tiles (goal), then your topic is "consultancy for natural stone tiles".
Have you got several survey goals? Great! But don't try to pack everything that you want to know from your customers into one single survey. One topic per survey - and no more. Your survey also shouldn't be too general, otherwise the answers will lose their validity. A survey on the topic of "consulting" can be too general if you offer consultation for different products and want to find out how satisfied the customer is with each and every consultancy service.
The survey goal is clear and now you just need a title. Here, the same idea almost always applies: Topic = title So your survey could be called "Consultancy for Natural Stone Tiles" or "Natural Stone Tiles - Our Consultancy Service". Describe the topic for your survey in a few words and avoid technical jargon. Your (potential) customers, and not just you, should also understand what your survey is about.
2. Adjust question catalog
As you're about to see, we've already put together a question catalog specially tailored to your field of business. With this question catalog, you can query up to 60 competencies in six categories like quality, consultation and customer service among others. Further to this, you can determine whether survey participants have the possibility to rate your price-performance ratio and write a personal testimony.
If you would like to query all categories and competencies, you don't need to do anything more. You can also choose whether you only want to query categories or also competencies. To do this, first click on Customize survey (optional) and then simply choose the appropriate template. If you want to find out where your strengths and top competencies are from the point of view of your customer, then you should query several categories and competencies. At the same time, you can also find out whether there's room for improvement.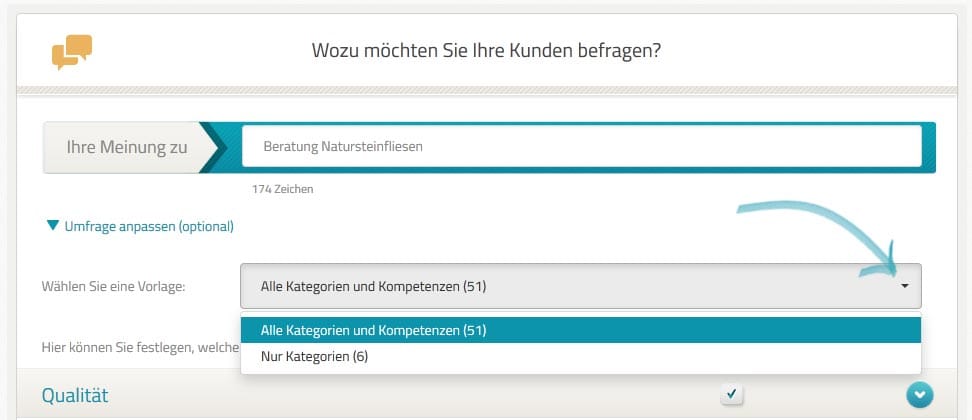 Tip: For each category, you can create a separate survey, except for "Customer service", since this category isn't included in the overall evaluation. Think of it like the B side of your overall evaluation. For this reason, you can't create a survey that only contains the category "Customer service" .
If you want to only query certain categories and competencies, you can delete individual categories (quality, use, performance etc.), questions or entire question categories and individually design your customer survey. Click on Customize survey (optional). By applying and removing check marks, you can activate and deactivate individual questions and categories. If you deactivate an entire category, all corresponding questions will also be deactivated automatically.
3. Save survey and...
... done! You've created a custom customer survey, catering especially to your goals. Now all that's missing are the participants, and you can invite these using email, access codes or via social networks.
Tip: If you have created an individual question catalog, this will be saved in your templates when you save the survey. If you want to start a new survey that should use the same questions and categories but using a different topic, you can easily reply on your template again.
We wish you success with your customer surveys!
Want to take control over your reputation? Manage your reviews with ease on ProvenExpert now.