Your first customer survey in just 60 seconds
Start your first customer survey in less than minute with our quick start tutorial
Find out how to create your first customer survey in just three steps in this tutorial. It is especially formulated for those of you in a hurry who wish to invite customers to provide feedback in under a minute. Let's get started!
Quick start – just three steps to the first customer survey
Do you want to use ProvenExpert mainly to collect customer reviews? Or do you simply want to know more about your customer's general satisfaction? Then you can use the standard settings from the question catalog for your surveys. This way, you'll save time and can create a survey particularly quickly.
To create a new customer survey, click on Surveys at the top of your profile go to My profile, and then select Create a new survey.
1. Determine the topic
Decide what you would like to ask your customers and enter the topic into the What do you think of field (as a default, your or your company's name will appear here).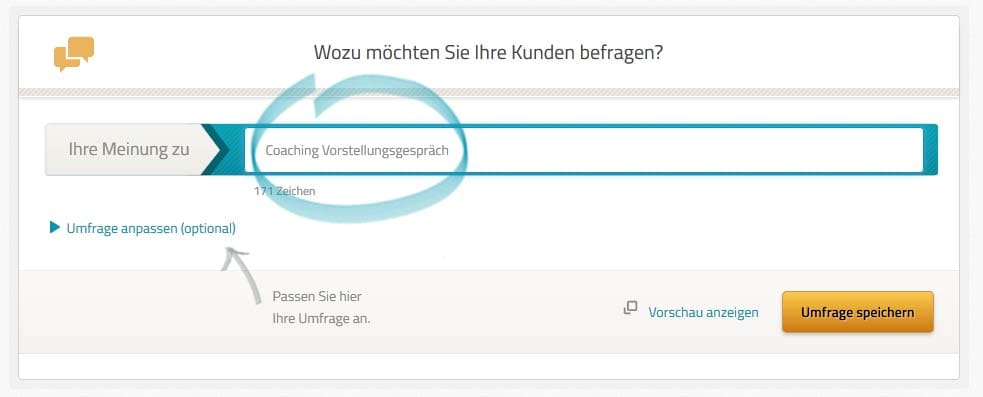 2. View preview
We've already created a question catalog customised to the industry. You don't have to do anything else. Take a look at the survey preview (click on View preview).).
3. Save and ...
...done! That's it! You've created your first survey. Invite your customers to submit reviews by email, access code, or social networks.
Are you now curious to know what the question catalog is all about? Or do you want to know how to customize a survey individually to obtain detailed customer feedback. For those who wish to use customer surveys to their full potential and want to dig a little deeper into the material, there'll be a detailed tutorial on the topic next week.
Want to take control over your reputation? Manage your reviews with ease on ProvenExpert now.
ABOUT PROVENEXPERT:
ProvenExpert is the online platform for qualified customer feedback and review aggregation. A tool that enables business owners and service providers of all sizes to actively seek customer reviews with industry-specific survey templates, bundle existing customer reviews in one location and present the overall score in a way that makes it more effective. Already more than 90,600 entrepreneurs and service providers of all sizes benefit from ProvenExpert.