3 steps to gain more trust and revenue: your road to your ProvenExpert profile
Tutorial: Get your first customer reviews in only three steps. Increase your revenue and reach more potential customers with ProvenExpert.
In contrast to traditional word to mouth, reviews and recommendations are more effective in the Internet, because they reach considerably more potential customers here. After all, a company that cannot be found on Google is virtually non-existent. Using your ProvenExpert account, you can very easily increase your visibility in the Internet and convince countless new customers of your good work.
And the best thing about this: ProvenExpert is straightforward and easy to understand. You can receive your first customer feedback in only 3 minutes and display the trust your customers place in your company for everyone to see. We will help you identify your strengths and potential so you can optimize your offer. The registration is of course free and comes with no obligation. This way, you can discover all functions.
We put together this contribution for you to show you how to create your profile in three easy steps:
1. Registration with ProvenExpert
2. Complete the profile
3. Publish the profile

1. Registration with ProvenExpert
With just one click "Start now" Register for free and create your personal profile step by step.
You can set your preferred language using the country flag at the top right as necessary. You already have a profile, but would like to learn more tips and tricks? Then log in with your existing user data and follow the instructions "Complete the profile".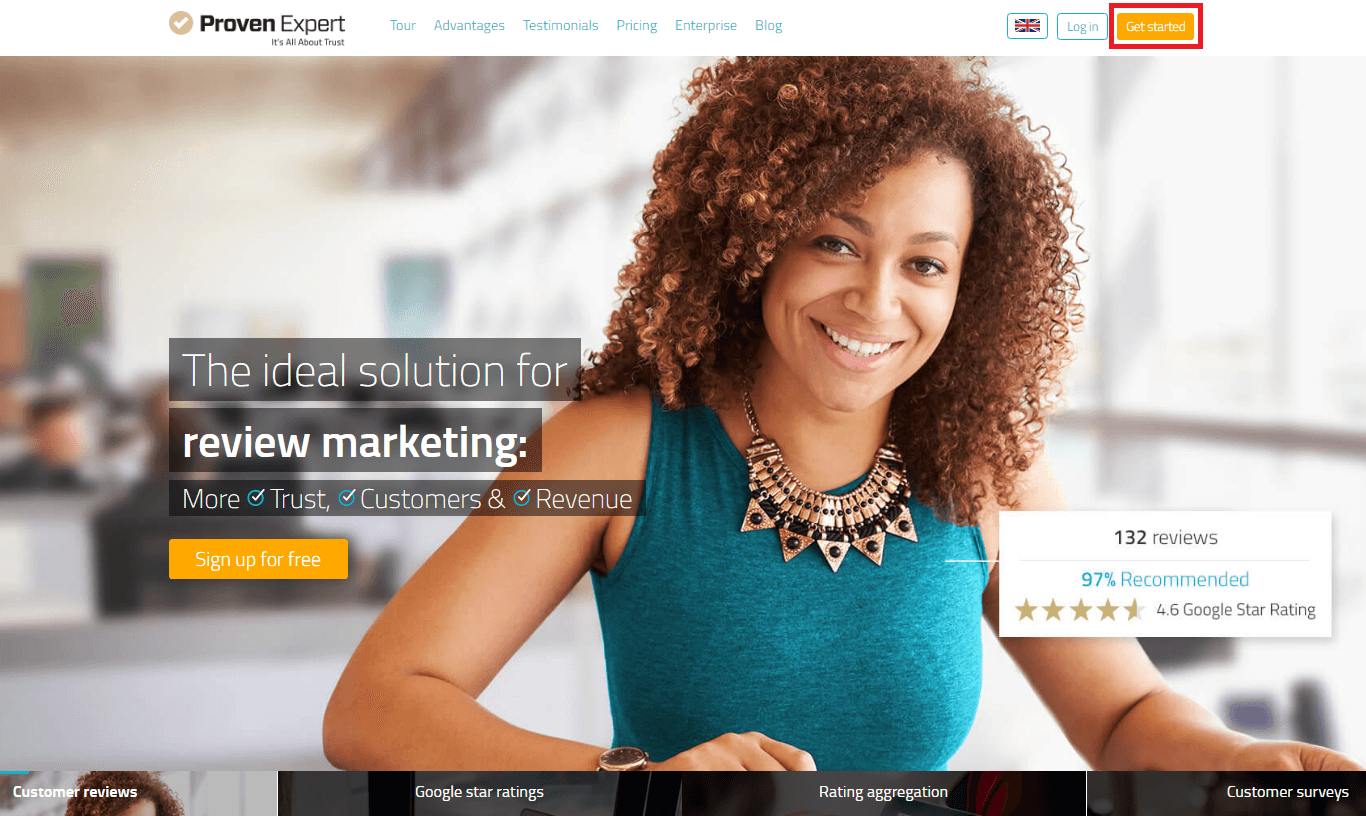 First, enter your e-mail address and select a password or log in with your existing social media Xing, LinkedIn or Google accounts. If you log in using one of your existing accounts, the data that is already saved there is integrated into your new profile and you can straight right away.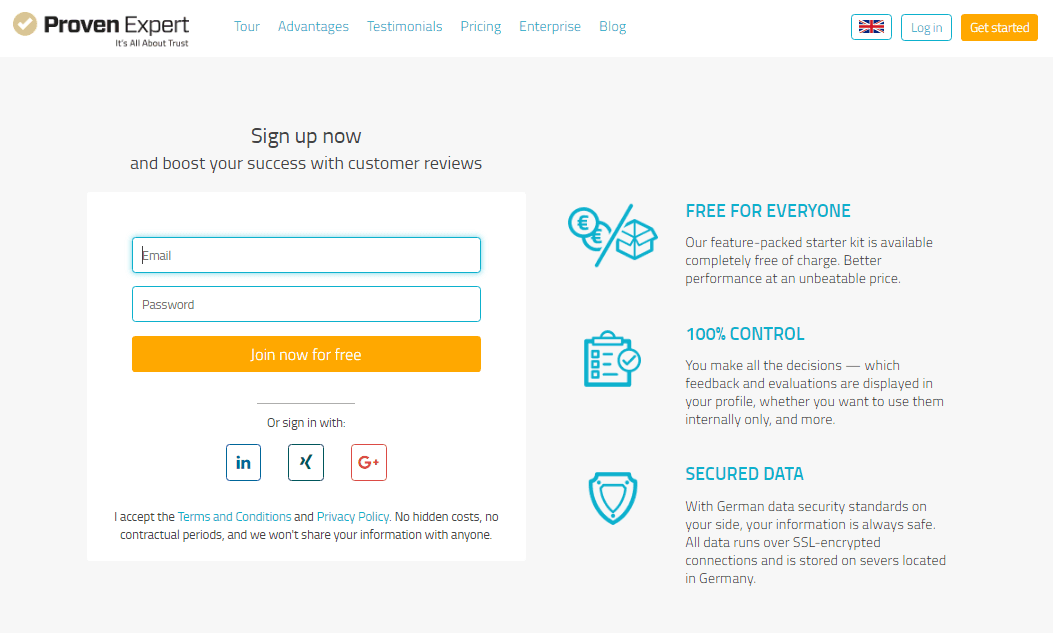 You are then prompted to enter your name, location and your field of activity. Entering your field of activity helps us provide you with the suitable template for your surveys. Using our survey templates, you can obtain very specific reviews from your satisfied customers later on. If you do not find a suitable field of activity, you can enter a desired area and receive feedback from our support team. To complete the registration, you only have to confirm your e-mail address. Afterwards, you can start right away.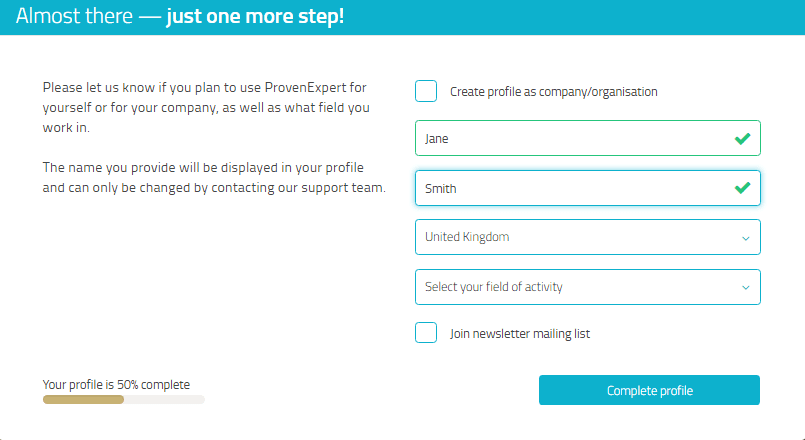 Tip:Have a look at our survey templates on our website first and choose the suitable field of activity.
2. Complete the profile
After you have entered your field of activity, your see your personal ProvenExpert profile for the first time. Here, you can save more detailed information and images about and of you or your company. To edit them, select the blue pen behind the respective field that you would like to change. You can also find tips on who your can optimize your rating profile on our blog.
You can enter your field of activity, the opening hours and contact details as well as an imprint for your business directly under your profile name. You can also link your website and social media profiles directly in your profile.
Note:Please note that you can only completely edit and use your profile after you have confirmed your e-mail address.
Activity
To edit your field of activity, click the adjacent blue pen "Enter your field of activity here". Enter your fields here that best describe your offer It makes it possible to find your profile in the search engines faster.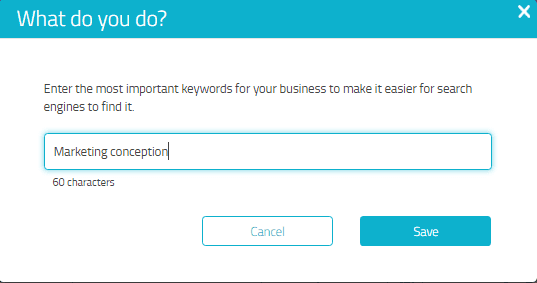 Tip:Try using sector-relevant keywords to further optimize your rating profile for search engines. John Doe whose field of activity is in marketing can, for example, choose for keywords, such as marketing concept, branding or consulting. Take some time to provide the most precise description so that your profile can be found by potential customers using different search terms.
Range of services and offers
Directly below the field "Activity" You can describe yourself or your company in detail.

You describe the range of your company services at the top. Make sure to formulate the text in the most unique way possible and use terms with which your company is to be found in the Internet.

Collect the keywords that best describe your company and that your target group will enter in search engines to find your services and products.
Tip:Try to save an individual text here and do not copy a text that you have used somewhere else – e.g. on your website. Search engines rate texts that are used twice as duplicate content. To enhance the ranking of your profile, you would be best served to formulate a new description. Always keep the content on your profile up-to-date and try to draw as many visitors to your profile as possible – that is also part of SEO optimization.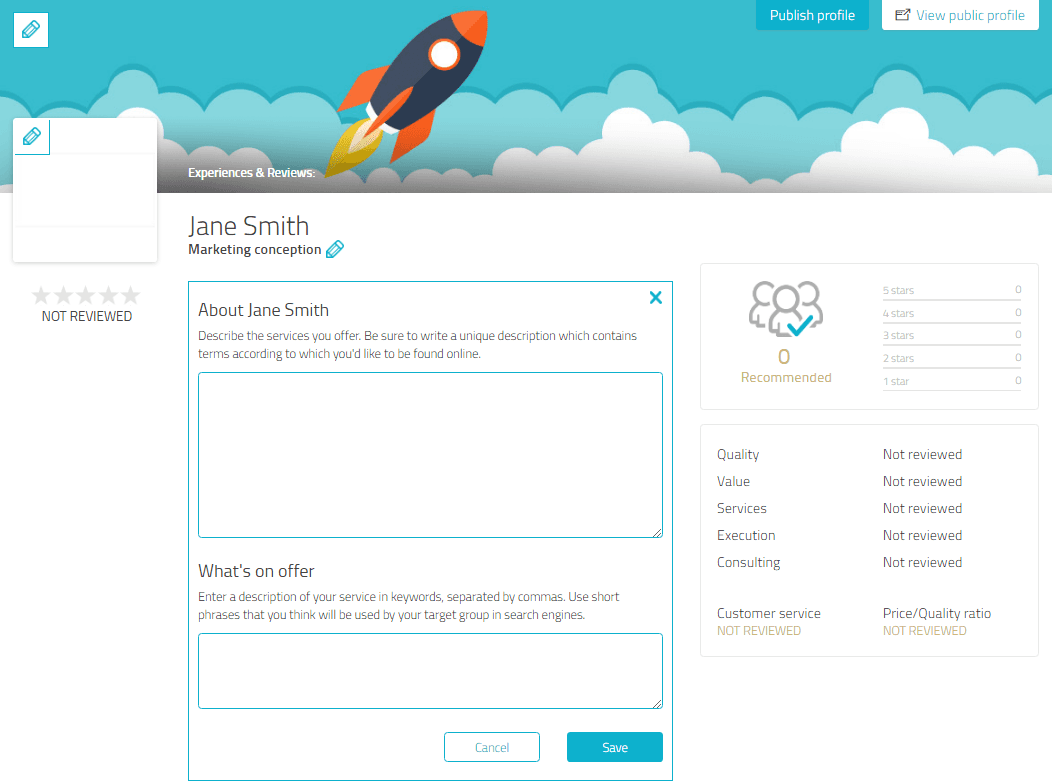 Contact details and appointment request
You can of course save all your relevant contact details in your profile.
Note:You can use the ""Arrange an appointment" button" in different ways. If you have an account with the online appointment scheduler, you can link it. The button otherwise forwards interested parties to your contact form. For this purpose, you should have activated "the Visitors can write me a message" function in the privacy settings.
SEO-Tipp:Enter your contact details on each account in the Internet in exactly the same way to make it easier for Google to create your link and increase your Google ranking. Always use the same format, for example, for telephone numbers, and always set the country or region code or any separations in the same way.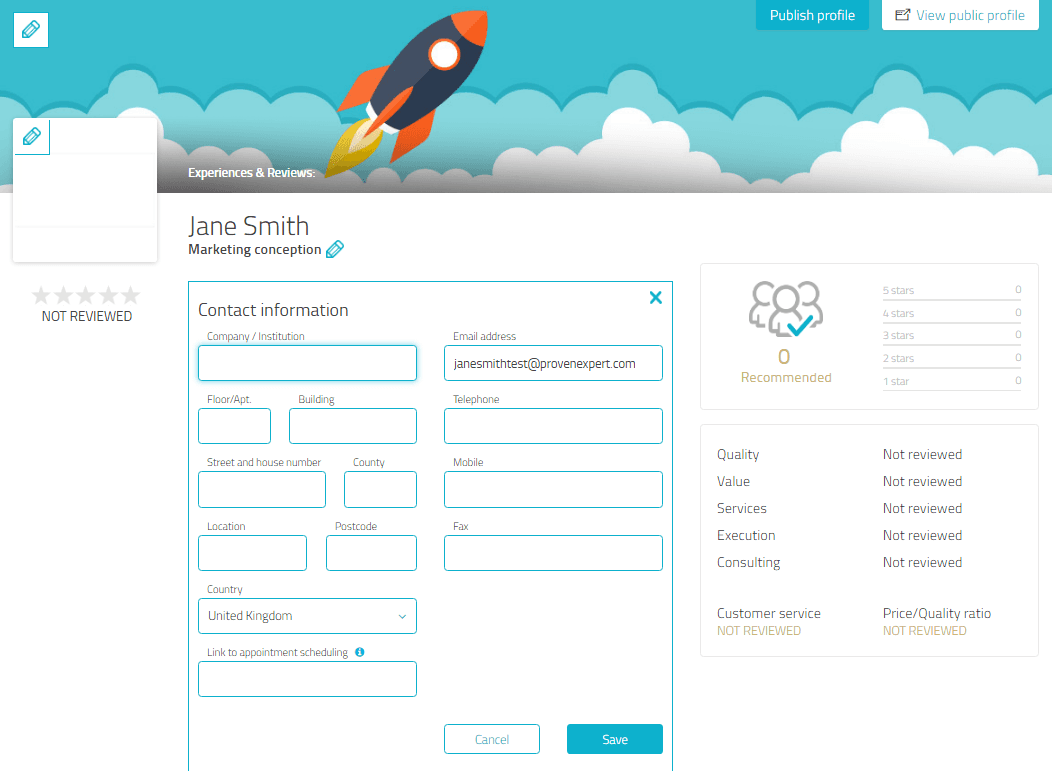 Aggregation of external review sources
Already have reviews on other portals? ProvenExpert allows you to clearly integrate current existing reviews from over 200 providers into your profile and present them on your seal.

To do this, use the "Add and manage review profiles area". Select the desired URL from the review portal or as an alternative, enter the respective URL directly.
Note:If the platform that you use is not yet listed, you will be notified as soon as it is available after you enter your URL. We check its integrity and quality first.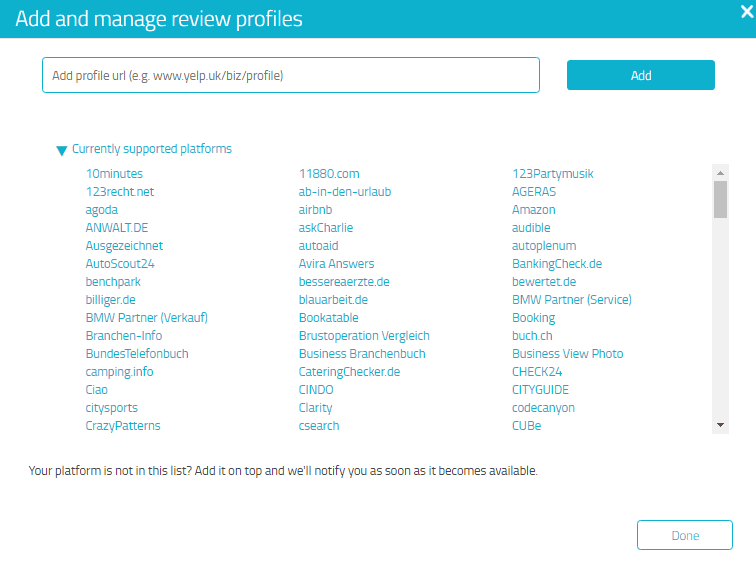 3. Publish the profile
You have saved all the necessary data in your profile and linked the existing reviews? Super, then you now ready to publish your profile and make it public and tap into the full potential of ProvenExpert. To do this, use the "Publish profile function" at the top of the page view. Your customers can now see your ProvenExpert profile and contact you to rate you. With a little time, Google will also add your profile in the search index so that you can be found even faster. Make sure to also share your profile in social networks and link it to your website to optimize your ranking in the search engines by setting up the link.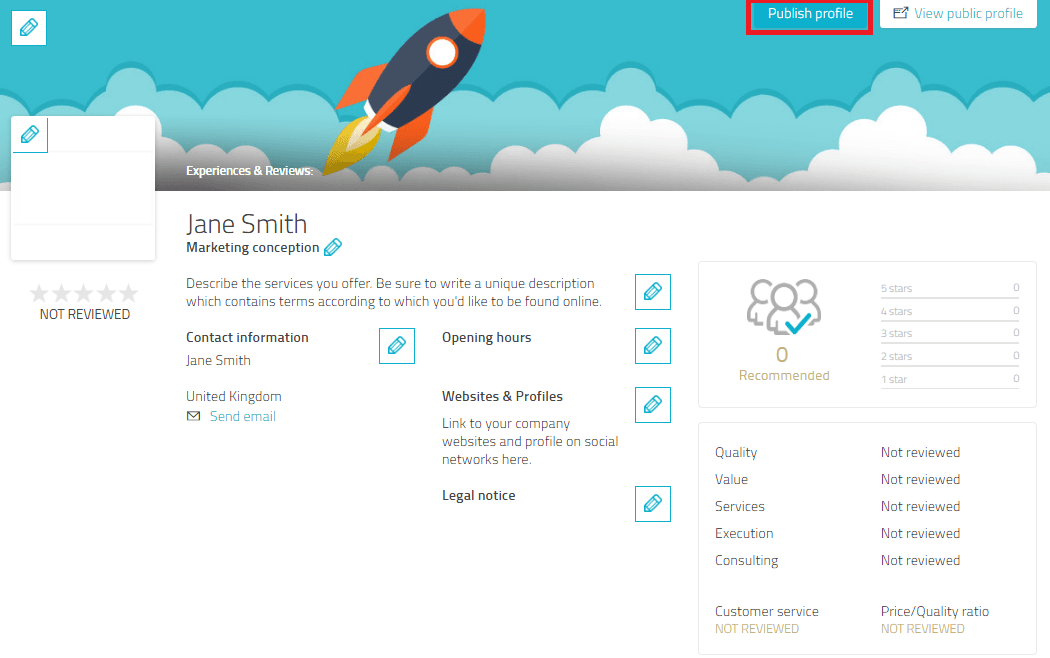 You have successfully created and published your profile? You can now send the first surveys, integrate your rating seal or display the rating starts on your website in the Google search results.
Want to take control over your reputation? Manage your reviews with ease on ProvenExpert now.