ProvenExpert now has 33,333 satisfied customers -
and is growing by the day
A retrospective: ProvenExpert celebrates its growing international success as a ratings platform.
When the idea for ProvenExpert first came about in December 2011, no one envisioned just how successful it would be. Our vision then was - and still is today - to create the perfect"all-in-one"solution for service providers and companies who wanted to harness the full potential of referral marketing. The existing portals and solutions that companies could use to gather online feedback had various weak points and disadvantages for users (for instance, it wasn't always clear who owned feedback). None of the available solutions covered all facets of the digital referral marketing landscape in a holistic way. As a result, only one in 10 service providers was tapping into this potential. In addition to the high cost of the existing solutions, nothing was being offered in terms of time, know-how and technical means. And that's exactly where ProvenExpert could put things right. Anyone looking for a service provider will use google them. Consumers make only three search queries on average before they order or purchase. So time is limited when it comes to attracting potential customers. A company that can't be found using a search engine practically doesn't exist.
By strategically using customer ratings at different touchpoints, companies can create trust, and therefore better success rates.
ProvenExpert's offer has clearly been well-received, as evidenced by the our steadily growing customer base. Today, six years after the start, we now have 33,333 customers (and more still since the time of writing - so many new users are joining that it's hard to keep up). Our customers have aggregated over 4.1 million ratings - great job! Increasing the chances of success for our customers has always been our goal , so we're delighted with the results of an internal survey, which show that our users have been able to increase their revenue by 10%. And it doesn't just end there: more people are registering with us each month. It's definitely a cause for celebration!
On the occasion of our number of customers reaching the 33,333 mark, I'd like to take the opportunity to thank our customers for their loyalty, our investors and business partners for their support and my team for their tireless, motivated work.
ProvenExpert in numbers
More than 33,333 users
More than 4.1 millions ratings
More than 42,000 completed surveys
More than 50,000 visitors to customer profiles
More than 7,500 requests via customer profiles per month
Over 320 external portals supported - more than any of our competitors
More than 100 international new registrations on a daily basis
50-strong team at ProvenExpert and growing
An average of 10% more revenue for customers
33,000 of the world's best customers and counting
Some of our customers have been with ProvenExpert right from the start, such as Memento Sympathy Cards, Schmelzer Butchers and insurance company Barmenia. From individual entrepreneurs to large companies like Expert, who use ProvenExpert in over 450 branches, businesses of all sizes and from all industries place their trust in us. New users are joining up every day and I'm delighted to say that our customers rate our service highly too:
camera obscura: "Using rich snippets has had such a positive effect on my ranking - I'm really happy we've decided to keep our company name. The results speak for themselves. We've even had the opportunity to talk to Google! For us, it was necessary to be able to work with the tool, and that the tool itself worked well. And now, we're visible :) Thanks so much for this amazing tool."
Beirle oHG: "These days, it's important to receive feedback so that you can take the chance to rejuvenate your workflow.Our customer feedback also helps us think about potential ways to change the way we do things. The handling is really simple and it can be great for everyday use."
Clutter Free Junk Removal Service and Cleanups: "Customer service chat was fast, accurate and friendly. Awesome experience."
Your Secure Cloud: "Perfect interface, tons of features - it's the perfect way to manage ratings today!"
Wilfried Schmidt: "ProvenExpert is an outstanding option for showing how satisfied our customers are. The answers I've received are honest, and I can also show them to prospective customers to give them a feeling of security."
Thank you for this! A huge part of our success comes down to recommendations.
New features – highs and lows
Our product would be nothing without feedback from users. Our product management has taken each and every comment about optimizing our potential on board - and has implemented them where possible. It's our customers that inspire new features and enable us to continue to improve ProvenExpert. For instance, we've added title images to the profile, developed a POS solution for sending a rating via a tablet on-site and given the websites and profiles a fresh new look. What's more, we now support aggregation from 320 external portals (that's more than any of our competitors) and use Google seller ratings on profiles and websites to enable our customers to increase click rates Since 2017, ProvenExpert has gone global and our service is now available in English. This expansion was a really important milestone for both us and our international customers.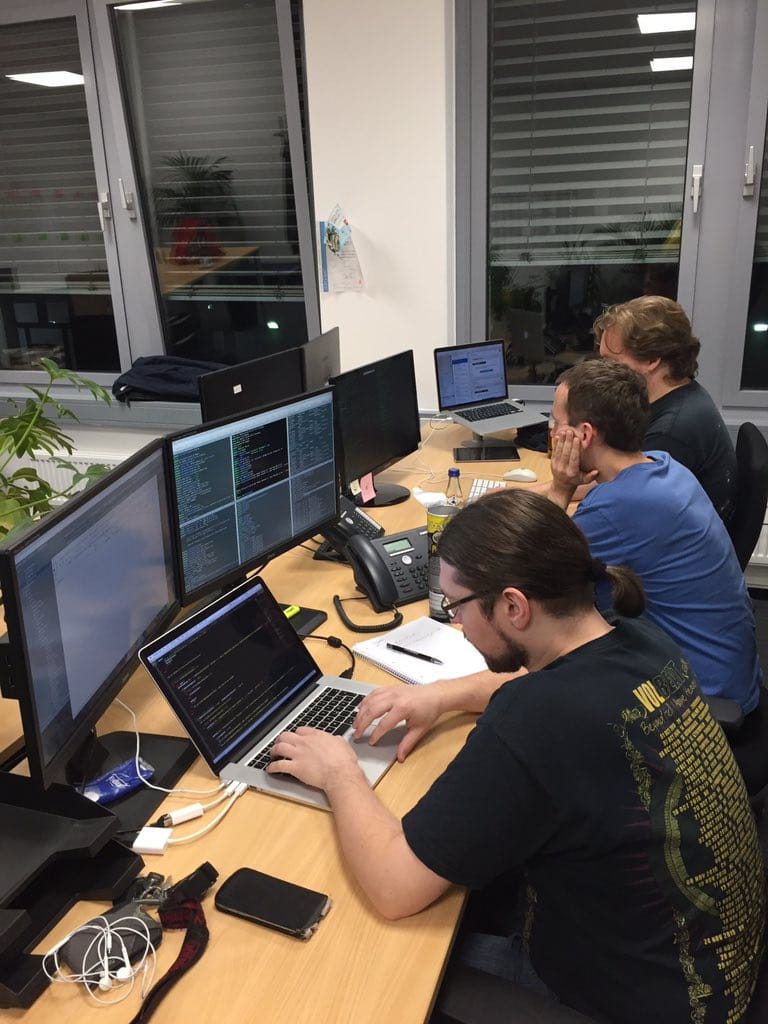 Things haven't always gone smoothly, of course - but our team overcame these hurdles with aplomb. I remember those long pizza-fuelled nights our developers spent on moving our server.
Packed all review stars into boxes and will move them to a new server now. We'll let you know when we've finished (in ~3h).

— ProvenExpert (@ProvenExpert) 30. September 2017
We'd thought 3 hours would be enough to get the job done, but there were some hiccups, and our customers had to ride this short period out with some limitations to service. But we got through it, and now we have enough space for a vast number of profiles and ratings.
We continue to look forward to helping boost our customers' success in the future and will bring out several new features in 2018 with love in the detail. We'll be releasing an app for Apple and Android that will enable you to quickly and easily receive feedback from customers directly on your retail premises. Additionally, you'll soon be able to invite customers to give ratings via SMS. Right now, we're also working on optimizing and expanding our ratings seal. Our new expert directory will ensure that customers will get found faster and that they'll be able to quickly and easily find the right business for their needs. We'll also introduce new languages for our international clients. In other words: we'll keep the excitement going.
The best team in the world.
None of these changes would have been possible without my team, which has grown from three members to 50 since 2011.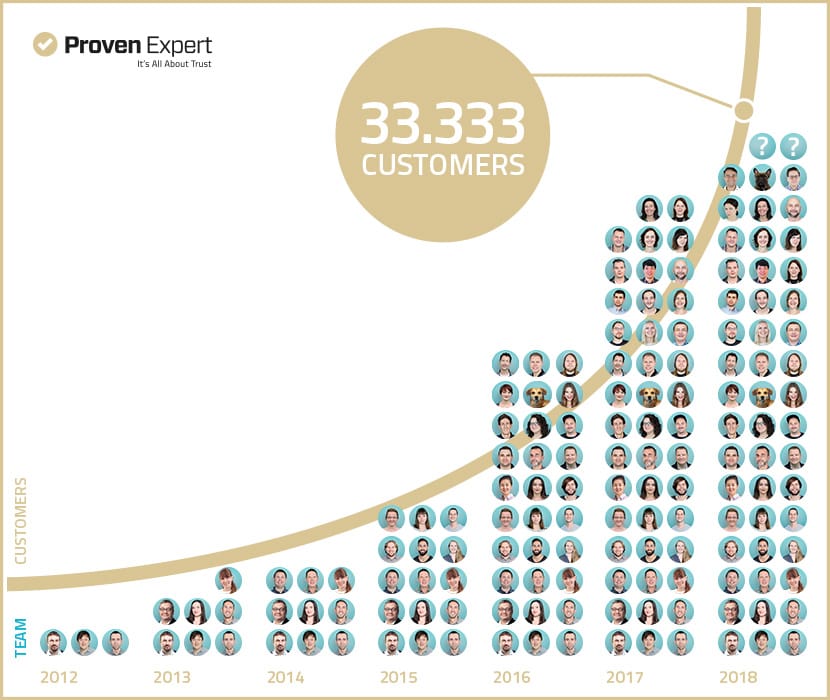 Working in development, product and project management, support and sales, all colleagues are focused on one thing - making ProvenExpert even better. And we have positions available. Want to be part of our team?
So, it remains for me to say,I'm so proud of you guys! THANK YOU for making ProvenExpert what it is. I love you all.
And I'm looking forward to having new people join us too. We're continuing to grow and have a number of new roles to fill. Want to be part of what we do?
I'm looking forward to the years ahead and to the point where we'll be able to celebrate with 333,333 customers. Here's to you, and to us! Let's reach for the (rating) stars together!
Remo Fyda,
CEO
Boost your business now!
Mit nur 15 Minuten pro Woche zu einem Umsatzplus von 10%
ÜBER PROVENEXPERT:
ProvenExpert ist die Online-Plattform für qualifiziertes Kundenfeedback und Bewertungsaggregation. Ein Tool, mit dem Unternehmer und Dienstleister jeder Größe mit branchenspezifischen Umfragevorlagen aktiv Kundenbewertungen einholen, bereits vorhandene Bewertungen an einem Ort bündeln und den Gesamtscore werbewirksam präsentieren können. Bereits mehr als 43.600 Unternehmer und Dienstleister jeder Größe profitieren von ProvenExpert.