NEW: The ProvenExpert Facebook rating widget

Stand out from the crowd with customer satisfaction ratings on Facebook. In this tutorial we'll show you how easy it is to integrate the rating widget on your Facebook page.
When customers want to learn more about a company or service provider, Facebook is often their first pit-stop.
How can potential customers be best convinced on Facebook that they should trust you with their business? Satisfied customer reviews and experiences on Facebook create trust in potential customers and can give the decisive push to decide in favor of the product or service. The ProvenExpert rating widget for Facebook is perfect for presenting your satisfied customers' opinions and ratings.
Studies show that 85% of consumers trust customer reviews just as much as they trust personal recommendations. Don't leave your Facebook profile without it – your potential customers can quickly get an idea of how satisfied your customers are from your Facebook page.
In this tutorial you can find out how to embed the ratings widget into your Facebook page. On the Facebook of ProvenExpert you can see what the ratings widget looks like.
Note: This widget is suited only for public Facebook pages. If you're not sure how a personal Facebook profile and a public page differ from each other, you can read up on this here.
First, log in to your ProvenExpert profile. (Are you still not registered with ProvenExpert?) Click to register.
Click in the navigation bar on the "Rating seal" and select the tab "Facebook widget".
The widget is already formatted, you don't have to do anything else besides "clicking rating widget button" .
You will then be forwarded to Facebook. Now, select one or several Facebook pages where the ProvenExpert widget should be embedded.
You have now successfully connected the widget with your Facebook page. Here you can learn how to edit settings in order to adjust the widget.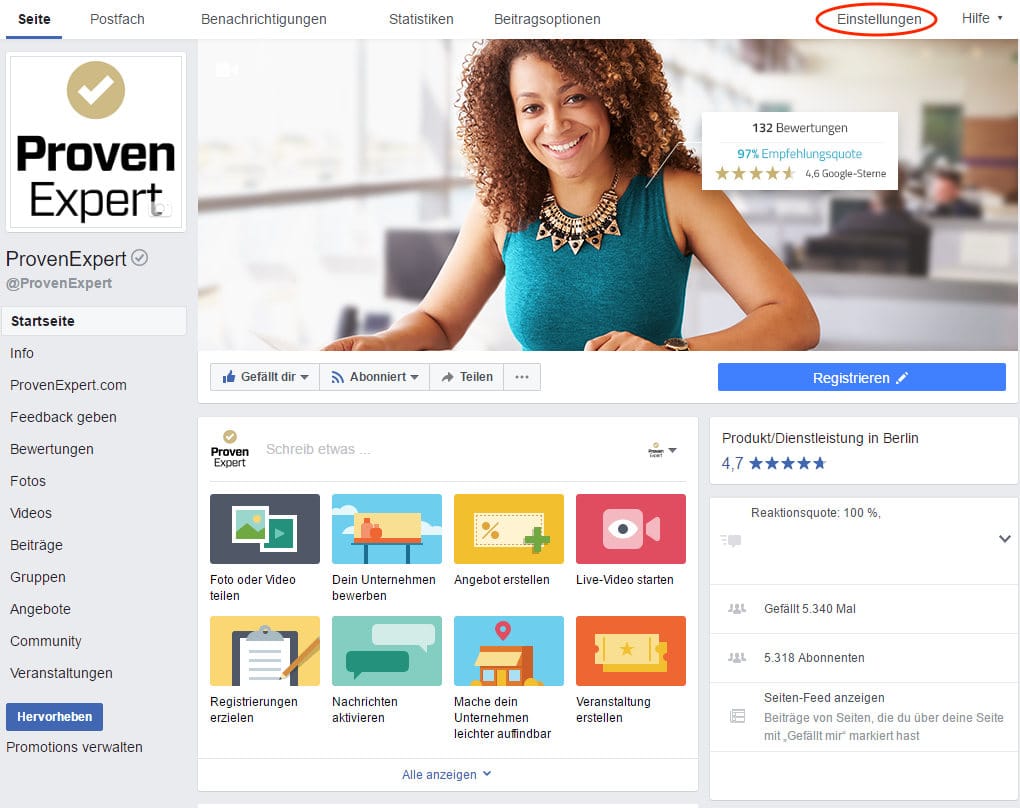 In "Settings" or to the right in the "ProvenExpert customer feedback tab" you can change the name and order of the ratings widget.
You will then see Settings. Here you can select the tab "Edit Page" on the left side in the menu. There, you can edit the ratings widget settings.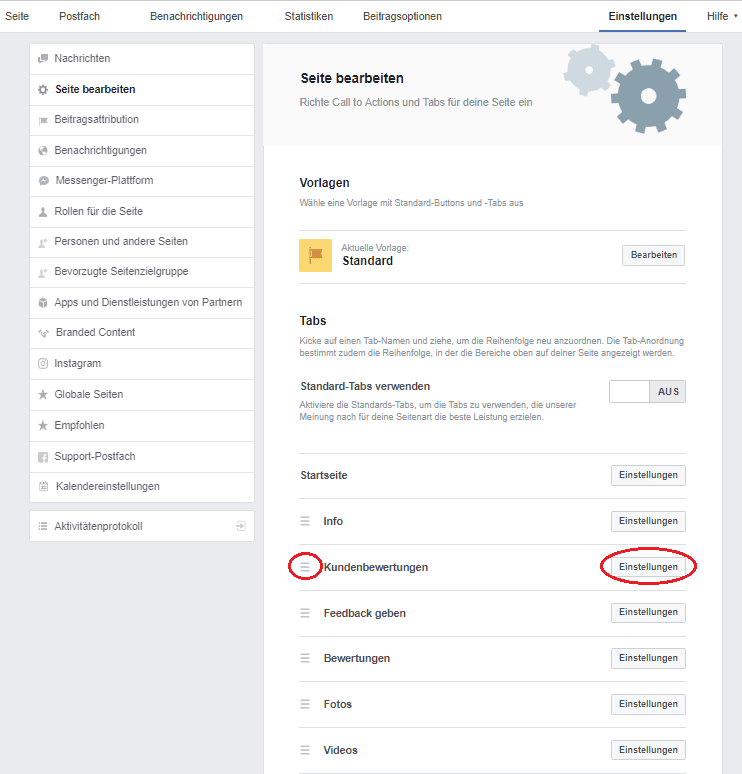 You will now see the tabs that you've already embedded on Facebook (in this example, the Facebook survey app has already been embedded). To rearrange the widget, click on tabs and move them using the mouse. If you would like to edit the "Settings" of each tab, click on the corresponding button to the right.
In "Edit Settings" you can enter a customized name of the Facebook ratings widget or set the display using a symbol.
If you have made up your mind about a setting, you still have to save changes to it.
You're done! Your Facebook visitors can see how satisfied your customers are with just a click!
Want to take control over your reputation? Manage your reviews with ease on ProvenExpert now.