Ralph Warnatz
Seminare, Vorträge, Trainings, Coachings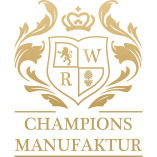 Mit rekordverdächtigen 3.202 Seminartagen und 1.250 Vorträgen gehört der diplomierte Sportwissenschaftler zu den erfahrensten seiner Zunft. Schwerpunkt seines Wirkens ist die strategische Entwicklung von Höchstleistung in Unternehmen und im Sport.
...
Contact information
Ralph Warnatz
Thyssenstraße 31
Germany
Directions
Contact person
Ralph Warnatz - Wir bringen voran UG & Co. KG
In order to add reviews from other sources, you must be using at least the
BASIC plan
.
*
All reviews are the subjective opinions of those who compose and submit them. | The profile owner is responsible for the contents of this page
| Only the reviews published by the profile owner in the last 24 hours are displayed | Profile active since 09/09/2020 |
Last update: 10/09/2020
|
Report profile