Scala - Die Klingen-Boutique
Kochmesser, Taschenmesser, Laguiole, Damaststahl, Messershop, Messer Wien, Knife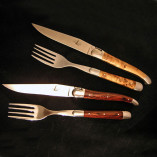 Der Name Scala steht seit 5 Generationen für qualitative Messer. Die Anfänge der Messerdynastie liegen im italienischen Bergdorf Paolaro. Dort war es für Männer fast eine Selbstverständlichkeit den Beruf des Messerschmieds zu ergreifen.
Seit 140
...
Contact information
Scala - Die Klingen-Boutique
Lainzer Straße 3-5
Austria
Directions
Contact person
Pietro Scala
Opening hours
Thursday
09:30 am-12:30 pm
02:00 pm-06:00 pm
Websites & Profiles
In order to add reviews from other sources, you must be using at least the
BASIC plan
.
*
All reviews are the subjective opinions of those who compose and submit them. | The profile owner is responsible for the contents of this page
| Only the reviews published by the profile owner in the last 24 hours are displayed | Profile active since 04/05/2017 |
Last update: 06/21/2017
|
Report profile